This is a small sampling of the blushes that I own. Over the years I have realized that I tend to hoard similar types of makeup and those are blushes and eyeshadows (typically palettes). I probably have 50 shades of pink because that is my preferred color. Yes, I have a couple of corals and peaches, as well as one or two mauve or nudes.  Pink is my preferred color, the brighter the better!  I think most women are scared of a bright blush but even the brightest pigmented blush will give your face some life if applied properly.  #noclownfaces.
I really like the real techniques blush brush for this.  It is large and fluffy with a tapered top.  This means that it won't pick up a whole lot of product and with the small tapering at the top, you can control how much area of your face you want to apply blush to. This brush feels highend but is only around $8-$10 depending on where you buy (target.com, some target stores, ulta, drugstore.com, and of course realtechniques.com).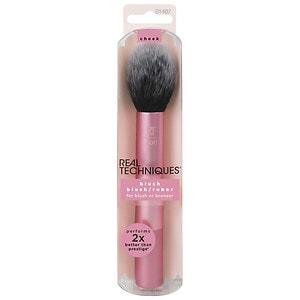 If you like a cream blush, which as I'm getting older I am starting to like more and more because you don't get that weird powdery look and they tend to stay on longer, you will want to you use your fingers to blend or a small duo fiber brush. I like the one from ELF called the e.l.f small stipple brush because it is small (good for the cheeks) and only $3.00, it also doesn't bleed black die when I wash it- looking at you MAC brush 187. You can find ELF at walmart or target.
There are a wide range of bright blushes out there.  I like the nyx cream blushes in glow, hot pink, and red cheeks. I also like the new Hard Candy Cheeky Tint Gels from walmart especially in "you're a doll" these are $6.00 (check your local store, not too many options on walmart's website).  Sephora also has a similar version for $14 called Sephora Colorful Cheek Ink Gel.  These latter two are more of a stain than a cream but they are also easy to blend and apply, plus because they stain they last all day.
For powder blushes, one of my favorite pink blushes, never goes on wrong is the Dior Rosy Glow Healthy Glow Awakening Blush, (at the bottom of the picture) this is also supposed to be like a stain but it is a powder.  It never looks too bright or too powdery and it lasts all day without fading.  Every time I wear it I am surprised about long it lasts and how good it looks all day. It is pricey at $44, but it lasts a long time (I've had mine for years). The Clinique Cheek Pop blushes are also super pigmented and made to last on the cheeks (I like berry pop, in the middle of the picture).  They have just added more colors to this line so even if you are not into pink you could find any color you fancy (these are more reasonable at $22 and if you go to a counter they always have free gifts going on). For Drugstore powder blush I recommend Milani ($8-$9 at walmart, cvs, or walgreens), either their awesome rose blushes (in love potion, in pic next to the dior blush) or their baked blush (in dolce pink or for a more cool tone- delizioso pink).
As you can tell, I want my makeup to perform. I do not want to reapply.  I do not want to look in my rear view mirror and realize that my blush has completely worn off or my skin ate it. #nofussblush
**no affliate links were used in this post. Links are there purely so you can look at the products specifically mentioned.